Drop-In Help
The Math Learning Centre (MLC)
The MLC is a space for Undergraduate Students to study Math together, with friendly support from tutors, who are graduate students in the Department. All students taking Math courses are welcome at the MLC, appointments are not needed.
During the fall 2022 winter term 2, the MLC will run both in-person and on Zoom.
The MLC begins on January 23rd and will run Monday to Friday from 12pm to 5pm (in person) and 5pm to 7pm (online) though the term. The MLC will be closed during the break (Feb 20-24).
The in-person MLC is located in LSK rooms 301 and 302. The online MLC can be accessed via the MLC Canvas page.
TA's are available to help with all first and second year math courses. Additionally, TAs have a broad spectrum of expertise areas for the higher level courses. See Canvas for the specialist list of TAs.
The MLC is closed over the summer.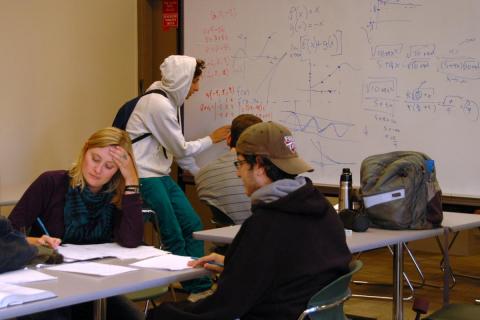 Whilst students are encouraged to seek help with homework, the MLC is not a place to check answers or receive solutions, rather, our aim is to aid students in becoming better learners and to develop critical thinking in a mathematical setting.
Please check the MLC Canvas page for the current schedule. All students taking math courses are welcome!
Location
The in-person location for the MLC is the third floor of the Leonard S. Klinck Building (LSK) in Rooms 301 and 302.
Contact us
Amin Soofiani - MLC Head TA: soofiani@math.ubc.ca